Meet Dr. Josh Ben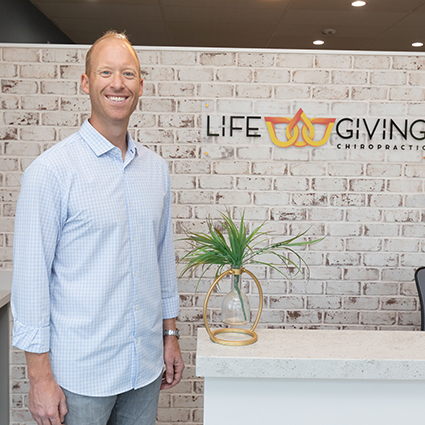 Having been adjusted since he was just days old, and growing up with a family who regularly received chiropractic care, it's not surprising that Dr. Josh knew from a young age that chiropractic would be part of his life.
Education & Experience
Born and raised just outside Seattle, Dr. Josh earned his bachelor's in biology from the University of Washington. He then moved to Georgia to pursue his chiropractic degree at Life University. While there, Dr. Josh met Dr. Sam in an anatomy class, and they hit it off and have been best friends ever since.
After graduating in 2009 with his Doctor of Chiropractic, Dr. Josh moved to Northern California, right in Silicon Valley, and opened his first office. It was a thriving family practice full of kids and families. Then in 2021, Dr. Josh and his wife decided it was time to move back here to Georgia, which is where his wife is from.
Dr. Josh is happy to partner with Dr. Sam, and is thrilled that LifeGiving Chiropractic is growing by leaps and bounds, serving the area with outstanding natural care.
Helping Patients Across the Spectrum
As a parent of young children, Dr. Josh particularly enjoys caring for kids and families who love being active. He likes meeting with new parents who want to learn and soak up a completely different mindset than what they've been educated on regarding the pharmaceutical route, to vaccinate or not vaccinate, and the birthing process, for example.
He finds it rewarding to talk to moms and dads about those topics, because practitioners often tell them, "This is what we're going to do." Dr. Josh is passionate about educating parents and letting them know they have options when it comes to their family's health care.
Dr. Josh also loves seeing older patients. He tells patients he wants them to see him or another chiropractor for the rest of their lives. "I want them to make chiropractic care part of their lifestyle."
EXPLORE OUR SERVICES
Enjoying an Active Family Life
When he's not caring for patients, Dr. Josh loves playing with his two young sons. The family also enjoys getting out on their 4 wheeler for rides in the woods or around the neighborhood. Some of Dr. Josh's other favorite activities include playing basketball, coaching his son's baseball team, hanging out with friends, and working out. The family also enjoys spending time at their vacation home in Destin, Florida.
Fun fact about Dr. Josh: He's a triplet of two sisters!
Book an Appointment
Contact us today to schedule an appointment with Dr. Josh!

Dr. Josh Ben | LifeGiving Chiropractic