Meet Dr. Sam Clavell
Choosing Natural Healthcare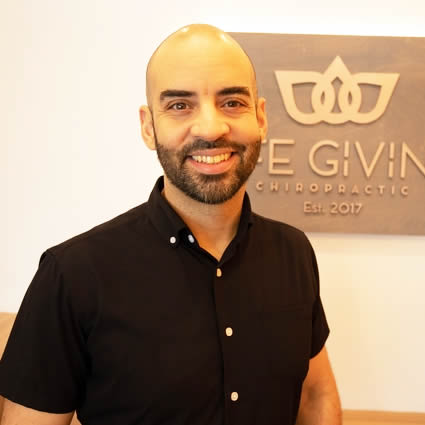 Dr. Sam was born and raised in Puerto Rico and was intent on becoming a medical doctor. As an undergraduate, he became disillusioned by the medical model that seemed to favor drugs and surgery as a first course of treatment—he recognized the value of medication and surgical intervention, but felt those should be used as a last resort, after less-invasive means had been exhausted.
Although he knew nothing about chiropractic, Dr. Sam's mother-in-law suggested he look into it as an alternative. He met with a chiropractor, who explained that healing comes from within the body and how chiropractic care facilitates that. Dr. Sam knew immediately that he'd found what he was looking for. He dropped everything and went all-in, enrolling at Life University College of Chiropractic in Marietta.
As soon as he began school, he knew he had made the right choice—even though he had never even been adjusted yet! He graduated with his Doctor of Chiropractic degree in 2010. Dr. Sam is also certified in the Webster Technique, the Thompson Technique and Activator® Methods.
A Serviced-Based Approach
After working as an associate for a year, Dr. Sam opened our Austell location in 2011 intending to provide natural health care in an area that was underserved. In 2017, we merged with Dr. Sam's best friend's practice and rebranded with the name LifeGiving Chiropractic. Dr. Josh closed the San Jose, CA location and moved to Roswell in 2021.
Our Christian faith is our motivation to be of service and provide care that is a blessing in our patients' lives. We are not a chiropractic office that is Christian—we are a Christian office that just provides outstanding chiropractic care. We were named Georgia Chiropractor of the Year in 2018.
EXPLORE OUR SERVICES
Away From the Office
When he's not at the office, Dr. Sam is busy with his wife of 16 years, Gretchen, and their two young sons who are active in baseball and soccer. Dr. Sam is also an Elder on OnMission church in Smyrna.
Book Today
Contact us today to schedule an appointment.

Dr. Sam Clavell | LifeGiving Chiropractic