Massage Therapy in Atlanta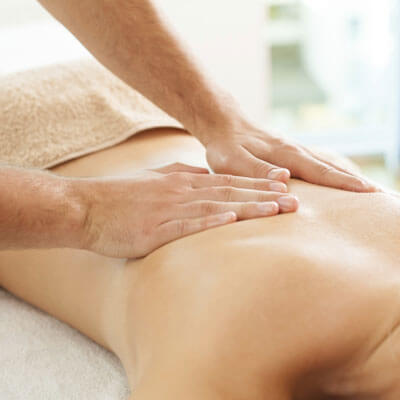 The term therapeutic massage can encompass a wide variety of techniques, but defined simply it is the mobilization (movement) of soft tissue to help relieve pain, reduce stress, or otherwise solve a specific problem. Therapeutic massage is also used as a means to restore the natural function of a specific part of the body and is often used in conjunction with physical therapy.
Our Approach
At LifeGiving Chiropractic, the therapeutic massage technique that will be used depends entirely on what that issue is. It's very important to be honest with your therapist about any problems that may be occurring or any pain that you feel as a result of an injury. Your therapist will tailor the technique they are using depending on the type of response they are trying to elicit.
For example, if you are trying to restore the natural function of a muscle group, the massage technique will most likely involve very fast, short strokes that are designed to stimulate. On the other hand, if the goal is to reduce stress and cause the patient to relax, the approach is going to involve long and more soothing strokes.
What Are Some Benefits?
Massage therapy is a safe and effective way to reduce stress and solve common muscular and injury-related issues.
Stress Reduction
When you are stressed, your body reacts accordingly. Your muscles tighten during the moment of stress and relax when that moment is over. However, if you are in a continuous state of stress, your muscles can stay slightly or permanently tense. If this is not resolved, it can lead to joint aches and pains, neck pain, and headaches.
Regular sessions over a period of time have been shown to not only relieve this stress but also to improve emotional levels and provide more energy. When your body is allowed to heal and relax, it will begin to function at an optimal level.
Regular 60-minute massages have been shown to lower cortisol, the stress-producing hormone, by an average of 30%. Our focus is to provide you a safe and nurturing place for you to relax, refocus your thoughts, and above all find clarity. We use several different techniques that will help your muscles and your mind relax.
Improved Circulation
If allowed to continue over a long period of time, tightness in your muscular system can be seriously detrimental to your overall health and circulation. Luckily, regular therapeutic massage sessions have been shown to improve circulation and allow blood to flow through damaged and stiff muscles, thereby promoting long-term healing.
Another benefit of massage is that it breaks up lactic acid that may be sitting in sore muscles. It also moves lymphatic fluid through the body, which increases immunity and carries metabolic waste away from muscles and internal organs, helping to lower blood pressure and improve the overall functioning of your body.
Poor circulation can be attributed to the pooling of fluids in your extremities; this can generate feelings of fatigue and achiness. Our therapists specialize in facilitating circulation by applying pressure to the areas that need it most.
Injury Recovery
Therapeutic massage has been shown to be extremely effective for both sports injuries and muscle recovery. Depending on the severity of your injury, other healing techniques may be required as well, but massage can help facilitate healing. It may also be used in conjunction with regular training to improve muscle function and help prevent injuries. If you find yourself in a situation where you are undergoing physical therapy or are experiencing discomfort due to an injury, it may be worth looking into therapeutic massage.
We take special care to make sure any injury, especially auto injuries, have all the recovery tools needed to restore full health. We are specially trained in injury massage therapy that can help reduce stiffness, restore movement, and provide relaxation that will help your body focus on healing instead of soreness and anxiety. We also provide supplements and dietary advice to help you heal faster.
What People Are Saying
I've had a great experience with everything this office has to offer. The initial call to schedule was very pleasant and friendly. The Dr is amazing! He explains everything step by step and takes the time to really get to know his patients. My pain has decreased tremendously, and I look forward to continuing my maintenance with adjustments and massage. Highly recommend!
– Tiana Q.



This is one of the best massages I have received, and I've had quite a few. This is the real deal. She can lay her hands on you and know what to work on. She can feel your pain. A great change for the better!
– David F.



I get massages pretty much every place I travel and hands down feel that LifeGiving ranks at the top of my charts with what they provide. They look at your body from a very medical standpoint and address your concerns beyond one massage and really get to know what your body needs. The massages coupled with the adjustments have fully fixed the pain and tension I was experiencing in my middle back. I also no longer experience my severe sciatica and feel overall in better health. I love the staff here and everything they have done to help me become a healthier and better version of myself!
– Emily M.



I love going in the office for my adjustments and massages. The staff is knowledgable and friendly, they explain every step of the process and are truly dedicated to improving my health. Love, Love, Love them!
– Mercedes S.
Schedule Today
Contact us today to incorporate massage therapy into your overall healthcare approach.
CONTACT US


Massage Therapy Atlanta, Roswell, Austell & Suwanee GA | LifeGiving Chiropractic