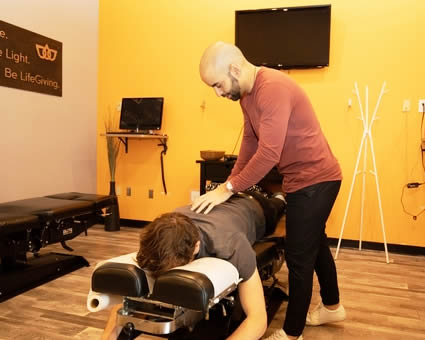 Spinal Decompression in Atlanta
Caring for your spine and using proper posture are both imperative for maintaining a functional body that will be able to take you where you want to go in life. The reality, however, is that each of our bodies is being constantly pressed down by gravity and the challenges of everyday life. At LifeGiving Chiropractic, we offer non-surgical spinal decompression to help keep you active and pain-free.
Spinal Compression
This pressure over time can cause what's called spinal compression, a condition in which the vertebrae press down on the soft discs in between the vertebrae. In extreme cases—or due to an injury—these soft discs can even slip out, causing pain and discomfort.
Chiropractic care aims to reverse these effects through decompression. This process involves the use of a specially equipped table that will enable the chiropractor to gently stretch, then relax the spine. Though the process may seem subtle and even relaxing, it allows the spine to repair damaged discs because it is no longer in a place where it is under extreme pressure.
Relieve Pain
By gently stretching the spine, we take the pressure off of the spinal discs. By relieving this pressure, bulging discs can retract back into place, which will take the pressure off of the nerves that are causing the pain you feel.
Rehydrate Discs
By decompressing your spine, you increase the disc space and facilitate the flow of water to rehydrate a damaged disc.
Avoid Surgery
Back surgery can take weeks or months to recover from, and will also require physical therapy and dangerous pharmaceuticals. Spinal decompression may help you avoid the need for surgery.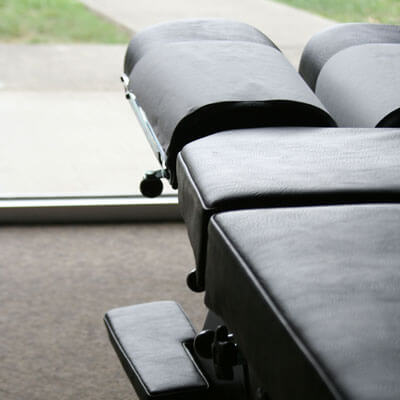 What Can Spinal Decompression Help With?
Among other conditions, regular decompression therapy has been shown to help with:
bulging discs
herniated discs
back pain
joint pain
prolapsed discs
Your chiropractor will likely recommend this therapy in addition to other care options to promote healing in your entire body.
How it Works
With the use of a specially designed table, therapy starts with your chiropractor using gentle spinal manipulations to stretch the spine and allow blood to flow into the discs. The discs may be inflamed, herniated, or irritated and by allowing the spine to stretch, the pressure is taken off of the discs so they can heal, rehydrate and form back into their proper shape. This therapy may take time depending on the severity of the issue, but it is more cost-effective and gentle than prescription drugs or surgery.
The length of your care will depend on the severity of the issue and how badly compressed the discs in your spine are. Most of our patients start to see long-term improvement is around 4-6 sessions.
Frequently Asked Questions
Who can get this therapy?
Spinal decompression is a gentle and safe approach to most spinal conditions, but there are some conditions where this may not be the best approach. It goes without saying that your chiropractor will go over your medical history to ensure the therapy is a good option. Some conditions that may prevent us from using this therapy include osteoporosis, advanced spinal diseases, pregnancy, obesity, and extreme nerve damage.
Is decompressing your spine good?
Spinal decompression is a non-surgical option where a motorized traction system gently stretches your spine. It's meant to take pressure off of your spine and offer some relief from herniated or bulging discs, nerve pressure, and other common causes of pain related to the spine.
It also promotes the flow of nutrient-rich spinal fluids, oxygen, and water into your discs to help the healing process.
While researchers continue to study the effectiveness of this therapy compared to other non-surgical treatments, many patients are finding relief with it. As a minimally invasive therapy, it's an option to help you avoid dealing with injections, being heavily medicated, or going through spinal surgery.
What conditions can benefit from this therapy?
Spinal decompression is used to address various conditions, such as degenerative disc disease, sciatica, spinal stenosis, and other conditions that cause chronic pain. It's also used to relieve herniated disc pain, chronic neck pain, headaches, posterior facet syndrome and injured spinal nerve roots.
One of the biggest reasons a person may choose spinal decompression treatment is that they are looking to avoid surgery and other invasive procedures for relief from their back and neck pain. The good news is that many patients don't experience any side effects from decompression therapy. However, it's possible you may feel some muscle spasms or a shooting pain down your arm or leg.
Let your chiropractor know if you experience either of these effects during your treatment. With muscle spasms, we can either apply ice or muscle stimulation to help reduce the spasm and make you more comfortable. With the sharp pain, it's possible that we may need to reposition you to continue the therapy.
Ensure that when you speak with your healthcare professional before undergoing this therapy, you inform them of your complete medical history. Some prior conditions may make you ineligible for this therapy, such as previous spinal surgeries, severe rheumatoid arthritis, bone cancer, Paget disease, and other conditions.
Book Today
Spinal decompression therapy may be a safe and gentle alternative to having an expensive surgery or using prescription drugs to manage your pain. This therapy has been used to safely address a myriad of conditions for decades.
If you find yourself managing chronic back pain due to an injury or long term pressure, contact us today to book an appointment. We look forward to hearing from you!
CONTACT US

Spinal Decompression Atlanta, Roswell, Austell & Suwanee GA | LifeGiving Chiropractic