Chiropractor in Roswell
At LifeGiving Chiropractic in Roswell Georgia, we focus on combining musculoskeletal care with other holistic and alternative medicines, such as massage therapy and nutritional support. This method will help you attain maximum healing and rejuvenation."
Experience Personalized Care at LifeGiving Chiropractic
Our Roswell location focuses on providing our community of Roswell, Alpharetta, Milton, Woodstock, Marietta and surrounding areas with a patient-centered, family-orientation approach to chiropractic care. We concentrate on alleviating immediate symptoms to create long-term wellness and improved quality of life. We find that people have learned to settle for a mediocre level of health when they could be achieving so much more. The fact that our current healthcare system teaches people that if you are not in pain, you are healthy. You only go to the doctor if that pain continues, and once that pain is gone, you are free to go about your life. This model simply does not work for most people, pain is a poor judge of health. At LifeGiving Chiropractic, we don't allow you to settle for a "pain-free" approach to health that is based on covering up symptoms, and taking "another pill". Instead, we focus on the cause and help you begin your journey towards thriving.
About Dr. Josh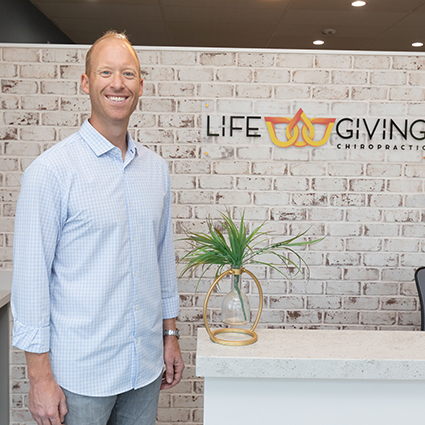 Dr. Josh Ben, owner of LifeGiving Chiropractic Roswell, is one of the founders of LifeGiving Chiropractic along with Dr. Sam Clavell. The two have been dear friends since meeting at Life University, and are happy to be working together as business partners in the practice now.
From infancy, chiropractic care played a massive role in Dr. Josh's life. This has given him the ability to experience how much of a difference a lifetime program of preventive maintenance can make in people's lives.
By maintaining his chiropractic care regimen through adolescence and into his teenage years, he was able to see first hand how a regular Chiropractic practice can prevent many health issues when the root cause is treated. This experience helped him discover how he could make the same difference in the lives of others that he experienced himself.
What to Expect
When you first walk into the LifeGiving Chiropractic in Roswell, GA, you are surrounded by an upbeat environment where you can really feel at home. Most of our patients look forward to their visits, and we look forward to seeing them. If you are a newcomer and have never worked with LifeGiving Chiropractic before, rather than simply jumping in and starting treatment, we like to start with education and diagnosis. After a brief evaluation, we will sit you down for a one-on-one that will thoroughly explain our findings, what the recommended course of action is to correct the problem, and give you a clear understanding of the costs. We find that this up-front, patient-center approach helps generate a level of trust right from the beginning. We make sure that our patients are confident in our plan, and no one is left to wonder what is going to happen next.
Book an Appointment
We care about your health, and it shows! Contact us today to schedule your LifeGiving event with Dr. Josh and discover what he can do for you and your whole family. We're conveniently located for patients in Roswell, Alpharetta, Milton, Woodstock, Marietta and surrounding areas.

Chiropractor Roswell, Cobb County GA | (678) 620-3294