Welcome to LifeGiving Chiropractic in Atlanta
At LifeGiving Chiropractic, we believe in giving back to our community. As a token of our commitment to your well-being, we're offering you are exclusive gift:
A FREE 60-minute massage In our $49 New Patient Special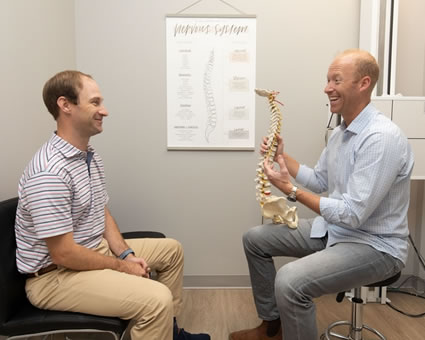 Combined with our comprehensive chiropractic care package, this massage is the perfect way to kickstart your journey to holistic health.
Exclusive Offer Just For You
Dive into the world of chiropractic care with our special package that's designed to provide you a holistic overview and treatment.
What's Included:
Complete Spinal Evaluation – Delve deep into understanding your spinal health.
Posture Assessment – Highlight areas for improvement for better health and well-being.
Spinal X-rays – A clear snapshot of where you stand with the latest technology.
In-Depth Review with Dr. Josh – Discuss your X-rays and understand their significance.
First LifeGiving Adjustment – Begin your journey with our tailor – made adjustment for you.
Tailored Recommendations for Future Care – A roadmap to your continued well-being.
And the Highlight: Your FREE 60 minute massage to elevate your relaxation and complement your chiropractic experience.
Hear From Our Happy Patients:
Meghan says:
"Dr. Josh is absolutely amazing! He really takes the time to get to know and approaches your issues with genuine care. I highly recommend him to anyone seeking quality care!!"
Morgan shares:
"Dr. Josh is amazing – both personally and professionally. He is an excellent chiropractor, and extremely knowledgeable. I have learned so much about health and wellness from him not only relating to chiropractic. My whole family sees him, and he takes great care of each of us and our varying needs. His practice is super family friendly, and he truly cares. Can't recommend enough!"
Your health and well-being are our utmost priority. With an expert team, state-of-the-art equipment, and nurturing approach, we're here to support you every step of the way.
Claim Your Exclusive Offer and FREE Massage Today!
CONTACT
LifeGiving Chiropractic
625 W. Crossville Road, St 126
Phone: (678) 620-3294
Find Us